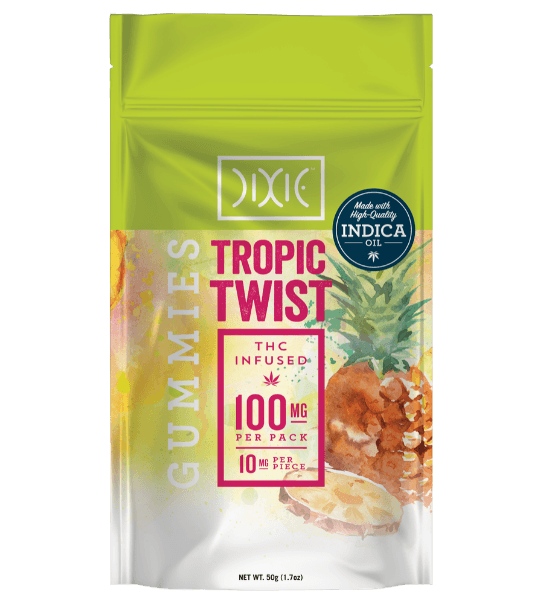 I'm a creature of habit, so when the dispensary was out of my beloved Simple Cure Indica gummies I was left reeling for a replacement. Did I want Simple Cure Sativas? Simple Cure Indica chocolates? Or another brand altogether? Ultimately I went with the chocolates but my friend went out on a limb & tried the budtender-recommended
Dixie
Indica
Tropic
Twist
gummies. She said she used to drive all the way to Colorado just to get them, so my friend was sold. Now I'm wishing I would've followed her lead after trying them myself. Holy crap.
For starters, the price is right. For just $24 you get 10 gummies (100mg THC per pack) instead of just 5 in the Simple Cure pack which is a bargain (50mg THC per pack), as the Simple Cure cost $15. And the FLAVOR! These are actually dangerous because they taste so good. I could see myself eating way too many & getting too high because they taste nothing like weed. At all. They're a zesty pineapple flavor that rivals any Skittle or Sour Gummy Worm on the market. They're gluten-free & very sour as far as cannabis edibles go, with a generous dusting of powder on the exterior.
The big round candies get the job done in the mind-altering department too, of course. Half of a 10 mg gummy is all I need to feel stoned for an afternoon. The extract is CO2 & ethanol-derived for the ultimate clean high. They also have Citrus Blast & Sour Smash flavors as well as Sativa, Hybrid & "Synergy" (1:1 THC to CBD ratio) varieties. Dope.
I have to give Dixie Tropic Twist Indica gummies a
4.9 of 5 stars
for flavor, effectiveness & price. As much as I love my old staple I'll probably be opting for these if they're in stock now. The taste & price are too good to ignore. I definitely see why Dixie is such a popular brand in Colorado. The only downside I can see is being tempted to eat too many for your tolerance level. If you're immune to THC's negative side effects, don't sweat it. And it'd be cooler if each pack had assorted flavors in it. But I'm not complaining because the taste is so good.
Donate anonymously to keep this blog running:
BITCOIN:
18cwb3qFkGghVqqzNSX59EFypzzF8Dd7Vg
BITCOIN CASH:
qz84t4ua2achx90a7yk8efelvufggflhu5tzalry7l