For those not in the know, the DEA Microgram Bulletin is the most interesting drug publication that exists, mainly because it's published by the DEA itself. That means it contains some of the most obscure drugs from around the country as well as the most innovative smuggling methods. Most of the issues were private & not available to everyday readers, but for a time (between 2003-2013 precisely) the bulletin was published on the DEA website for public viewing. While it's now been erased from the official website, some good Samaritan has taken the time to create a PDF of every issue available to the public, which can be viewed here:
This stuff makes for some great rainy day or weekend reading if you want to see what the most tweaked-out minds in drug smuggling are up to in the U.S. Highlights I've come across so far include: TNT sold as methamphetamine; black cocaine smuggled inside the wooden bar of a hammock; 40-year-old psilocybin & methaqualone tablets; a deodorant container filled with meth; a cocaine-impregnated silicone baseball cap; fake kidney beans full of heroin; blankets "starched" with opium(?), SweeTart candies soaked in 5-MeO-AMT; black crack cocaine (what's with all the black coke?) in Virginia & fire extinguishers full of cocaine.

Funny & bizarre stories are also dotted throughout the bulletin. In one instance, a backpack full of cash & illicit pills ranging from 2C-B to meth & MDMA was confiscated during a car accident...and the owner actually called the police station afterward to claim that the money was his but not the drugs. Can't make this stuff up.

But it's not all sunshine & cheer. Other parts of the bulletin just show how ridiculous its existence really is, such as a photo of a "cuddle puddle" (below) at a rave in Idaho that's apparently intended to show the detrimental effects of MDMA. Ooh, spooky. They also have a special section dedicated to the plant drug khat, which is mainly used by Muslims from Yemen & surrounding geographical regions. It's chewed for its mild stimulant effects & must be obtained fresh or it becomes worthless. So the abuse potential is low, yet they still found it necessary to include a multi-page spread about it.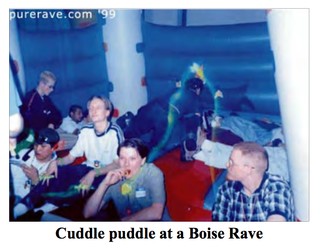 Ecstasy scare piece
Oh, and they also made a big "oopsie" when they identified a legitimate oxycodone pill as a counterfeit methylphenidate pill. In actuality, both pills just happen to look alike with a capital "M" inside a square on a white tablet. Took 'em a few issues to figure that one out & it was a reader who set it straight. 🙈
All I can think while reading this is that some of these shady DEA agents must be pretty tempted to take a few samples of these rare drugs home for themselves...especially after purity testing has been completed. I know I would be. Particularly those Lemmon 714 Quaaludes.