You don't have to be a hardcore rap fan to have heard of Bizzy Bone, the lightning-tongued member of multi-platinum Grammy winning group Bone thugs-n-harmony. What you may not know is that Bizzy (Bryon McCane) has one helluva crazy life story behind his success. He's appeared on America's Most Wanted, Oprah & the Maury Povich Show over the years to talk about his pain & inspire fans as well as founding several charities. But there's been plenty of drama & controversy along the way too.
Bryon was the product of an interracial union between a social worker mother & absentee father. He was only 4 when he & his 2 sisters were kidnapped by their stepfather. They were taken across the country, told that their mother was dead & subsisted on whatever food they could obtain by begging. (His stepdad was an ex-NFL player named
Byron
McCane who played briefly for the Pittsburgh Steelers). During this nightmare trek, Bizzy was molested by another child & likely experienced other forms of sexual/emotional abuse by his stepfather. I recall reading somewhere that he'd watch porn in motel rooms in front of the kids which is probably only the tip of the iceberg. They were finally discovered after Bizzy's photo was aired on the first episode of
America's Most Wanted
with John Walsh following the murder of John's son Adam. By sheer chance, a neighbor recognized Bizzy living on an Indian reservation in Oklahoma. The kids were returned home to Ohio but the happy reunion would be short-lived.
Photo of Bryon aired on America's Most Wanted
Unfortunately, Bizzy's mom would enter a string of abusive relationships that would directly affect her kids. Bizzy & his sisters were battered by these men until they were finally placed in foster care for what was supposed to be a temporary placement until their mom Rosanna could get on her feet. While Bizzy's stepmother was a loving figure he bonded with deeply, he eventually missed his biological sisters & moved back to a rough Cleveland neighborhood to be with them. (His foster mom claimed that, at 7 years old, Bizzy didn't know how to work a telephone & had never seen the inside of a refrigerator. This indicates
unimaginable
neglect if true). In Cleveland, Bryon's drug-dealing career would begin. It's also where he would meet the 4 friends who would forever alter the course of his future. In a positive way for once.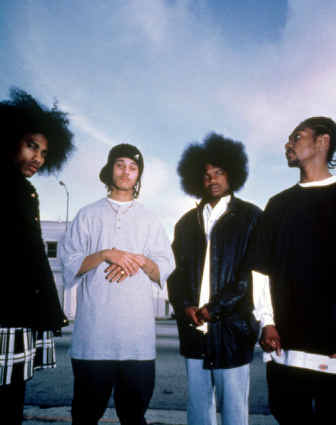 From left: Layzie, Bizzy, Wish & Krayzie Bone
While in high school, Bizzy hooked up with the other members of Bone Thugs-n-Harmony--Layzie, Wish, Krayzie & Flesh-n-Bone--& began performing in local talent shows. He also fathered a child at only 14, though in one of his songs he rapped that "I was a daddy at 12" so there's some discrepancy there. Either way, that's extremely young. Eventually the guys would formulate a plan to track down Eazy-E & audition for him after one of his shows, buying a one-way Greyhound bus ticket to California & betting it all on that one shot. It worked & the rest is history. They joined Eazy's record label Ruthless Records & began their career as legit rap artists. Bizzy was only 16 at the time they signed their first contract.
Bizzy was one of the first--if not the
only
--rappers to put his personal story of being sexually abused on wax & speak openly about it in interviews. That's significant in an industry that was, especially in the '90s, highly homophobic & hyper-masculine. He was even mocked for it by Wendy Williams. He's also endured homophobic taunts over the years from fans & haters which has to hurt considering he doesn't identify as gay.
ADULT / HOOD
Like any real-life story, Bizzy's bio hasn't been all sunshine & rainbows. He's fathered a total of 10 children by around 8 different mothers (depending on which source you consult); lost many close loved ones including Eazy-E prematurely; went through an extreme period of drug abuse & mental illness; had multiple breakups with his band mates & record label; was beaten/choked/robbed in an L.A. hotel in 2009 & did some
assaulting
&
threatening
of his own.
The most troubling instance by far is an
audio recording
of a drunken Bizzy verbally assaulting & throwing things at his ex Ranna Royce while he calls her sickening names like "whore" & "slut" in an almost demonic voice as she screams for him to stop. I admittedly boycotted his music for a while after hearing that. His misogynistic side definitely comes out while intoxicated, as in another video on Youtube of him sending a message to his daughters that their worth is in their "pussy" and they better not let a bunch of men "beat up their womb" thereby decreasing their value as humans. The guy's got unresolved mommy issues for sure, and who can blame him after what he's been through? Still, at his age (early 40's) there's no excuse for not getting that ass in therapy & working through your trauma like an adult. Especially with that many kids to raise.
Still, through it all, Bizzy's pulled off an amazing transformation that's immediately apparent just by looking at him. This photo from 2005 shows a bald, bug-eyed, leathery skinned dope fiend who looked at least 20 years older than his age. In the last few years, Bizzy has been hitting the gym, eating healthy, foregoing the hard drugs & taking better care of himself. And it really shows. See the two pics below for comparison:
Bizzy circa 2005 (horns added for effect)
Bizzy with wife in 2018









In addition to all this other craziness, Bizzy has changed religions several times, converting from Catholicism to Islam to who knows what at the current time. After becoming emaciated & attempting to walk on foot from Columbus to Cleveland in 2004, his weight then ballooned up by at least 80 lbs, putting him in the overweight/obese category. He's beefed publicly with too many rappers & singers to list here. Including members of his own band. And he was slated to appear on Dr. Drew's Celebrity Rehab during the early 2010's but that season was nixxed for some reason. But that's all behind him...for now.




Despite his sometimes violent behavior, I'm quietly rooting for BB to keep his shit together. Love can be a stabilizing force but even if the marriage goes South I hope he stays off the drugs/booze & in the gym. And if he's not already in therapy, here's hoping he will get there one day. I suspect he's bipolar based on his pattern of wild up & down mood/energy swings and self-medication, but of course you can't diagnose someone you've never met and without a medical degree. PTSD? Absolutely. Anyone with that history would naturally experience that. Something would be wrong if they didn't.




From abducted boy to foster child to legendary hip-hop artist, Bizzy Bone has led one interesting & inspiring--and at times baffling, disturbing & scary--life. Maybe "Bizzy" is short for "Bizarre". 😋




____________________________________________________________________________